Below are some pictures of some boat ramps on the western side of the bay along with a brief description of their condition and how to get to them .

St Helens .

Here is St Helens boat ramp .This is a two laned ramp with floating pontoons giving easy access for the familly to get on and off or just for loading up the boat .You then head to the left of picture through the entrance and your then in Corio Bay . The only problem with this ramp is the shallow entry of the ramps themselves .This causes you to put the car down a bit further than you normally would to get the boat in the water .It's exactly the same when pulling the boat out at low tide .At high tide there is no worries at all .Fees are paid at the Coast Gaurd builing that overlooks the harbour ,the cost $4.00.That is another good thing here , the Coast Gaurd looking over you .
My Rating Is 8.5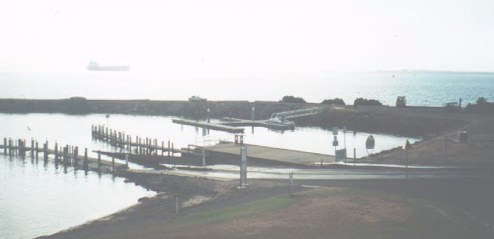 How you get here is very easy .
Travel down the Princes Hwy into Geelong , past the Ford factory and over the Seperation st bridge . Just down on the left there is a service station for all your last minute needs and then another 300 mtrs is the turn to the
ramp, Swinburne St next to the park and the old KFC building .The ramp is at the end of the road .

Foreshore rd Ramp (Concrete) .

This ramp is very small and most of the time it's covered in weed , sometimes sand .It is ok for boats up to 4 mtrs and has a very small car park on either end (6 cars).This ramp opens up to Limeburners bay and is only 500 mtrs from the shell refinery . This is unprotected in a sth wind and it really requires two people for easy handling of boats up to about 4 mtrs ,tinnies are ok for one person.
My Rating Is 4.

You can get to this ramp by traveling down the Princess Hwy to Geelong and turning left at School Rd . Bunnings is on the corner . When you get to the roundabout turn right down Shell rd and then left into Foreshore Rd a few hundred mtrs down the road ,the ramp is on the left .

Limeburners ,sand ramp .

This is a sand ramp ,only small boats can be launched from here and it's still a pain to get them in or out .
On the right you can see the boat on the edge of the channel that enters the Lagoon Boat Harbour ,i dare say he's fishing for Snapper .
My Rating Is 3

| | |
| --- | --- |
| | |
| To get here you use the same directions as the above ramp , you just go a little bit further on and turn right before you get to the yacht club . | |

Avalon Beach . (Concrete)

This is a small concrete ramp situated about 15 minutes out of Geelong .It is suitable for boats up to 4.5 mtrs although bigger boats have launched from here . There is a bit of room to tie a boat up while you get the car so it is usable by one person .When launching here you must be carefull of the reef straight out from the ramp .After the boat is in and you are setting off for a day on the water you have to head out at the angle of the pier itself (10 pm) .This will get you past the reef and into deeper water.Do Not even go out an extra mtr ,stay as close to the pier as possible .I would advise anyone thinking of using this ramp to have a good look at it in the daylight as well as speak to some of the locals that live in the beach huts along here .There is a public tiolet and small picnic erea here .
This erea is near the 9 Ft Bank & Bird Rock it is a good whiting ,snapper and gummy erea .
My Rating Is 3.5
You can get to this ramp by turning off on the Avalon beach rd just past Avalon airfield heading towards Geelong .Follow the signs to Avalon beach and bob's your uncle .You can see this erea on the Melway page no 11 where map 423 & 424 are indexed .You will end up going through the salt pans before you get to the ramp .

Kirk Point ( Concrete )

You know what they all say ,don't you
"a picture says a thousand words" .Just have a look at this little ripper . Isn't it great that now we all pay for the privilege of going fishing the government is using our money to fix up these ramps This one is a shocker ,there is a very small carpark ,nowhere to safely tie up the boat when you are on your lonesome and it is very isolated .You can put in a boat up to about 5 mtrs ,two up . Who knows what could be happening to your car/trailer when your out early in the morning or into the night .
It is rather shallow and sandy and unprotected in anything but a northerly wind . The only good thing about this ramp is that it's near the good Snapper grounds of Kirk Point .
My Rating Is 1.5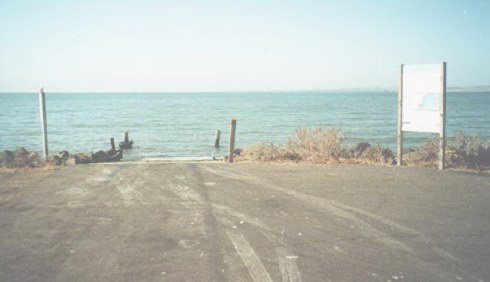 You can get to this ramp by heading along the Princess Fwy and turning off at the Point Wilson turn off . Head down until you get to Beach rd and then turn left .This is where you enter the Melb Water farm ,this is a dirt rd of about 3 kms and there you have it ,the end of the earth .

Werribee Sth

Here is the Werribee ramp . It is situated in Sth Werribee . .
There are a couple of faults with this place ,the first is the lack of space when it gets busy both at the jetty and in the water out from it . Also the channel often gets silted up and moves it's course so the best bet would be to ask other boaties or the attendant where exactly the channel is .There is a Coast Gaurd lookoutt about 2 minutes up the road .
It did cost about 8 dollars per day to use but there seems not to be anyone taking money at most times .I will confirm this with the Werribee Council
My rating is 5.5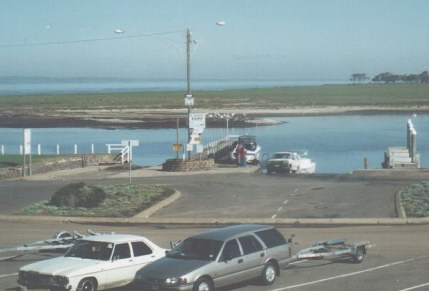 You travel down Duncans rd from either the Sth Werribee turn off at the freeway or you can get on to point cook rd from Laverton Sth and then join onto Duncans rd and travel along the waterfront untill you get to the ramp .

Altona

Altona ramp has just been rebuilt.
It now has a safe harbour as well as another good double ramp with floating pontoons .There is plenty of room when it's busy for boats to either tie up or float around in the ramp erea .There is good parking and it now has a ticket machine and costs eight dollars per day .From here you have access to areas around Williamstown ,Point Cook and out to the P2 bouy ,Fawkner Beacon and the Dumper all are very good Snapper spots
My rating is 9
To get to Altona ramp you can travel along the Esplanade heading from Altona Meadows via Central av . You can go down Millers rd and turn left at Civic Pde and then left again at the Esplanade .The ramp is only 200 mtrs further up .










Warmies ramp

This ramp is about 2 years old now . It has good parking and fees are paid
via a ticket machine ( $8.00). The ramp itself has a good angle both in high and low
tides but is narrow . Care must be taken when launching and retrieving when ther is alot of
boats tied up comming in or going out , it can get very squeezy . Once in the channel stay to the right of the markers and have a good look when going into the shipping channel
for various craft BIG and small , sometimes it's very busy . this ramp gives good access to Webb dock and the Docklands.
My Rating Is 6.5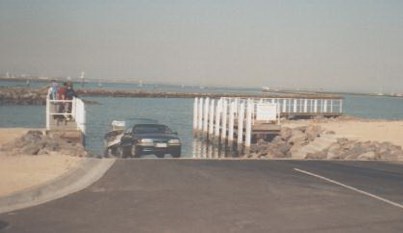 The entrance to the ramp is off North rd Newport .The turn off for here from Melbourne rd is just over the railway bridge at the roundabout .You can also get to this ramp by going down Douglas Pde and turning left at Nth Rd just past Newport Power Station ,as well you can go down Kororoit Crk rd and either turn left at Douglas Pde and then right at Nth Rd or go past Douglas Pde and turn left at the Esplanade then right at the end .